Getting married in Madeira it's a perfect decision for your wedding. In Madeira, it is possible to find a wonderful blue that almost mixes the sky with the sea and offers stunning experiences with much to discover. It is a destination that allows you to discover first-hand all the beauty, calm and power of the Atlantic Ocean, through the practice of a variety of activities.
With such a diverse and magnificent natural area, Madeira is widely recognized for its incredible landscapes. Here you can choose between a more relaxed activity or increasing your adrenaline with extreme sports. The best way to get to know the mountains and have an intense outdoor experience is to walk on a "Levada".
Porto Santo is the second-largest island in the Autonomous Region of Madeira and is bathed by turquoise water and tranquillity reigns here.
This small paradise, known for its extensive and wonderful golden sand that covers almost the entire south coast of the island, is located just 50 km from Madeira Island. A 9 km beach of golden sand and a sea of ​​calm and crystalline waters with pleasant temperatures put Porto Santo beach on the map of idyllic destinations, having been elected the best "beach of the dunes" in the "7 Maravilhas – Praias" election. Portuguese". In addition, beach sand has scientifically proven therapeutic properties that help in the resolution of orthopaedic and rheumatic problems and also in the rehabilitation of bone fractures. The richness of seawater in iodine, calcium and magnesium also makes Porto Santo the ideal place to replace the lack of mineral salts in the body.
10 Reasons why you should be getting married in Madeira Island in 2022
Now we will present you with 10 things why you should be getting married in Madeira:
1 – Magical Wedding
The contours of our coast, the unique charms of nature, the sun with that unique light, the beaches, the climate, the diversity of scenic natural environments, the incredible sunsets, the urban environments and the historical wealth printed in the cities, the authentic rustic house wrapped in the surrounding landscape and, also, make us enchanted with this little house of ours, facing the sea.
It's the way we welcome and know how to receive! It is the human warmth of these people who enjoy happy moments of sharing at the table, always with it well watered with unique, varied and excellent aromas and flavours.
It is the generous way in which these people do "the guts, the heart" to achieve everything someone wants, building wonderful environments in the most beautiful spaces, or the most unlikely places. It's knowing how to carry the "house on your back", putting someone's dream in its place, always with a genuine smile on your face, with the logistics, professionalism, quality, exuberance, rigour and comfort to make it come true!
We don't know for sure; We do know that it will be the LOVE we feel in building dreams for those who choose us as a destination for their MARRIAGE – that day that is peaceful, unique, magical and full of good emotions!
2 – Family and friends gathering, joining a special day and vacation
A destination wedding is a wedding that takes place at a location that is far enough for a majority of the guests to make travel arrangements and book nearby accommodation. Most of the guests book their holidays for the date, or special event for the family and all your friends will love to come with you on this adventure.
Destination weddings can be hosted in the country the majority of the guests live in, but these kinds of events are normally hosted abroad.
When you think on celebrate your wedding outside your country, you think first must tell your guests, second help them organise and book everything for them. It´s very important that they feel like a big family trip.
Destination weddings often take place in an unusual setting, breaking free from the norm. Since these ceremonies are typically smaller in size, compared to traditional weddings, destination weddings tend to result in lower costs.
There are many reasons couples decide to have a destination wedding, and one of these is that it allows you to have a wedding in a foreign, and often exotic location, without having to break the bank. You can save money in some areas and spend more in others… or save all around.
What better than having a special event surrounded by family and friends in a destination that most of them are going to visit for the first time.
The happiness of a magical wedding with a few days of enjoying the most beautiful island in the Atlantic.
3 – Discover a unique gastronomy
Thanks to the subtropical climate and volcanic soils, Madeira's cuisine is based on fresh and varied local ingredients. Traditional dishes include "tuna steak with fried corn", "sword steak", "skewers", "passion fruit pudding", and "limpets", among others.
Fish
Tuna is generally cut into fillets, seasoned with salt, and marinated in a sauce with vinegar, olive oil, garlic, oregano, and pepper (Molho de Vilão).
Black Scabbard Fish is an elongated fish found at an average depth of 1,000 meters and is generally eaten in the form of a fillet, seasoned with garlic, lemon juice, salt and pepper, then dipped in egg and flour, before being fried in olive oil.
Meat
One of the best-known dishes is kebab (Espetada): small cubes of beef, seasoned with salt, garlic and bay leaf, placed on a skewer (laurel or metal stick), and then roasted on a brazier.
Pork is also generally consumed in cube form, after being seasoned and marinated in garlic, vinegar, bay leaf, pepper and white wine. It is a typical dish of the Christmas season, usually known as "wine and garlic meat".
Others
Tomato and onion soups are very popular in the winter, accompanied by a poached egg. In the summer, marine shellfish called "limpets" is also very popular and are served grilled with lemon and butter.
Side dishes generally include the "semilha" baked potato, the sweet potato, the fried corn and lettuce, tomato as well as onion salad. Bolo do Caco is typical Madeira bread and is usually served hot, in rectangles with garlic butter.
A passion fruit pudding is one of the most popular desserts, due to its sour and sweet flavours.
If you decide by getting married on Madeira Island, you can choose any of these unique flavours for your wedding catering service.
4 – Variety of accommodation – from luxury hotels to rural tourism houses
There is a varied offer of accommodation, as well as the experiences provided by them (luxury hotels, with spa, for families, adults-only farms, ecological and historical). Because the selection is extensive and of high quality, you will be able to choose among the refined charm of traditional hotels, the innovation and authenticity of design hotels, the family welcome of rural tourism establishments, or the charming mansions of Madeira "Quintas da Madeira".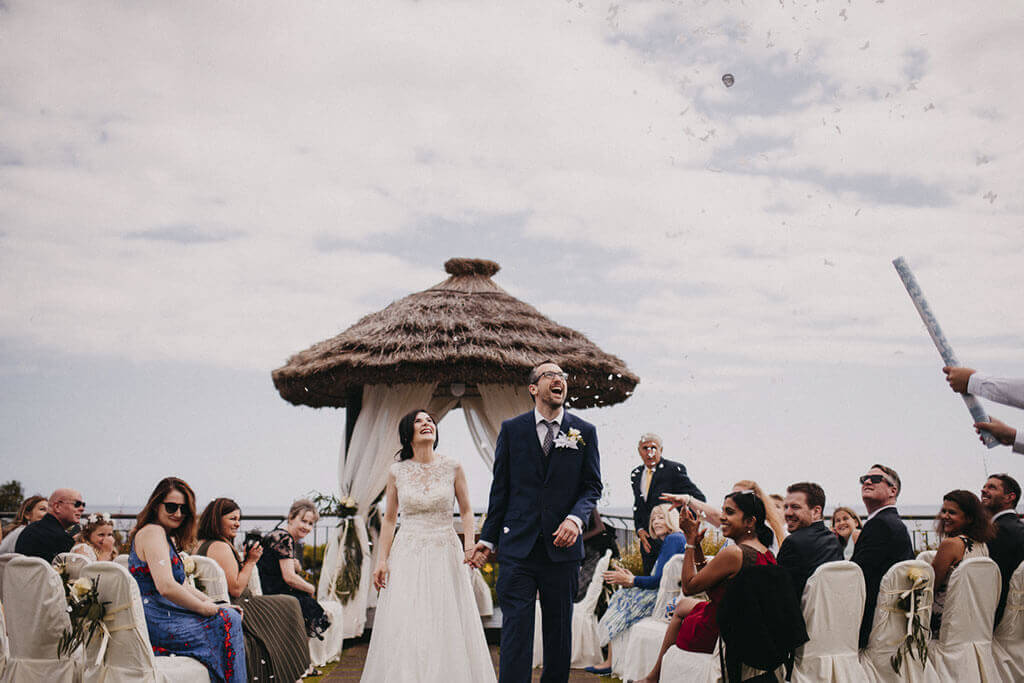 5 – Events throughout the year
With 6 centuries of history, these islands are guardians of a rich cultural heritage. The offer is wide and of high quality, from beautiful buildings such as churches and chapels, through the artistic interest of the monuments that coexist with the daily hustle and bustle of the city, to the museums and traditional cultural centres, which have inheritances from various origins.
They are starting points for a trip to the past, where you can discover some details of the history of these islands. Its relics include examples of Manueline, military and modernist architecture, paintings, furniture, sculptures, photography, porcelain, and jewellery, among others.
In Funchal, the Baltazar Dias Theatre, built-in 1888, is an important cultural focus and has a diverse agenda throughout the year.
In Calheta, the Mudas (Museum of Contemporary Art) was internationally awarded for its architecture and offers shows, conferences, plays, music concerts, as well as exhibitions.
Discover our events!
Some say that Madeirans are always celebrating, and we cannot disagree. Our events, besides taking place all year round, are experienced with great intensity. Come and meet people who are always celebrating!
Carnival
Carnival is the most contagious burst of joy! There's no escape from the rhythm of happiness you'll feel in the month during which sparkle, colour and optimism take over the entire Madeira archipelago.
Flower Festival
Flower Festival symbolizes renewal, hope and transformation. It's the magic of these three elements that set the tone for welcoming spring. The kind of magic that runs through several municipalities of the Madeira archipelago and leaves no one indifferent to the bold decorations that reveal authentic works of art full of flowers.
Atlantic Festival
We make an entrance into summer with the Atlantic Festival, driven by the dance of fire that artistically crosses the sky of Funchal and fills it with colour on the four Saturdays of June. It's the combination of fireworks and music that makes this experience even more exciting.
Columbus Festival
Come aboard Colombo's Festival and discover the richness of an amazing story. No, you won't need to turn on your GPS to find the way. Just take the boat heading for Porto Santo and travel into the past. It's in Ilha Dourada (Golden Island) that this story, which goes back to the Age of Discovery, is told. You'll go back in time and live in the medieval period, an era that went down in history due to the adventurous arrival of Cristóvão Colombo on the Island at a time when everything was a mystery.
Nature Festival
Nature Festival is an ecstatic experience on Madeira Island, a festival for adventure seekers. Activities take place, as the saying goes, "from the valley to the mountain and from the sea to the hills", making this a must-see festival for all nature and sports lovers. The combination of energy and inescapable adrenaline translates into a thrill like no other, giving you the chance to live a truly overwhelming adventure!
Christmas and New Year
At Christmas and on New Year's Eve, emotions run high in Madeira and Porto Santo! There's a festive atmosphere and daily entertainment wherever you go. Decorations and lights take the stage, breathing life into a warm traditional urban scenario. The festive mood takes over all villages of this homeland so rich in tradition, which gets even more remarkable during this time of the year.
6 – Spectacular and lush Landscapes
The nature of the islands is magical. It awakens all the senses, through its thousand shades of green, the charming song of the birds, the fresh water that flows in the waterfalls, and the smell of flowers and moist soil. Here you live peacefully, surrounded by landscapes that allow you to meditate, be and feel alive.
Nature is varied and includes the Laurissilva Forest, a World Heritage Site (UNESCO), rare flowers and birds, endless cliffs and trails, farm terraced landscapes and cloud-capped peaks where you can go hiking, running, and play extreme sports.
There are serene bays and peninsulas, fajãs next to the sea, islets and deserted islands that protect sea lions, waterfalls, parks, and flower gardens. It is the true union with nature, present throughout the island.
Different experiences can be lived in nature, such as walks around cascades and waterfalls in the Laurissilva Forest, a UNESCO World Heritage Site. As you walk up Madeira's highest peaks, you can feel the adrenaline rising as you climb above 1,000 meters altitude. There are interesting rock formations along the route of the São Lourenço's peninsula, where you can end the day with a dip in the sea.
7 – Porto Santo, one of the "7 Wonders – Portuguese Beaches"
In 2012, Porto Santo beach won the "7 Wonders – Portuguese Beaches" category in the "Dune Beaches" contest. This 9-kilometre beach has crystal clear waters bathing an extensive and continuous coast of fine golden sands, which are the origin of its name "Ilha Dourada".
Another good reason for you to think about getting married on Madeira Island.
8 – Friendly and hospitable people
Thanks to the inhabitants' joy and simplicity of the places, the atmosphere is friendly. Madeirans have a strong desire to help and master the art of welcoming. Visiting Madeira is like "feeling at home" from the very first minute, through very characteristic hospitality that differentiates any trip to this destination.
It will be a great combination if you choose to be getting married on Madeira Island.
9 – Madeira, 7 times the "Best Island Destination in the World"
It is an honour for Madeira to have received 2015, 2016, 2017, 2018, 2019, 2020 and 2021 the title of "Best Island Destination in the World" at the World Travel Awards™, which is another good reason (among other) why you must visit this wonderful destination.
10 – Mild and subtropical climate (average air and seawater temperatures between 18 and 24°C)
This wonderful climate allows you to fully enjoy the pleasures of the sea and nature. There will be plenty of opportunities to swim in volcanic pools, stretch out on the sunny beaches, take a boat trip to see whales or dolphins, hike to waterfalls, experience a mountain bike adventure or go canoeing in the heart of the Laurissilva Forest.
"Would you recommend getting married on Madeira Island? Well, if you like white sand beaches and crystal-clear water then don't! But if you're adventurous, want something different and are ready to just hang out, be yourself and not care about the perfect shot, then – definitely! It was cold, too windy for us on the mountain, plus it was difficult to run along the mountain trails in bridal shoes. But we were both ready to let it all go and just focus on us and nothing else! Of course, other places in Madeira would be suitable for a ceremony with guests, but a photoshoot on the mountain is a must!"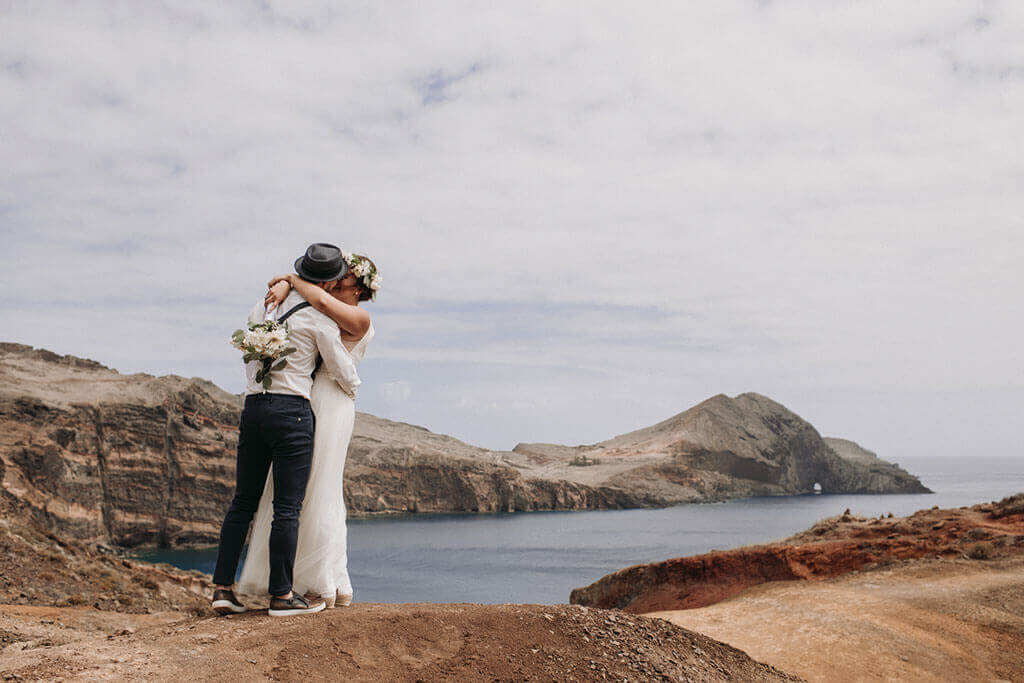 After these 10 reasons why you should be getting married on Madeira Island, you are probably thinking about how to choose the wedding venues on Madeira Island. We have some suggestions that you can have a look at.