It's a fact that the wedding process is stressful. Some of us don't have the motivation to get married in front of hundreds of people and don't feel the need to have a traditional wedding. Others are just looking for an exotic adventure for their wedding plans. Some are even just looking to cut expenses.
Whatever is your reason that having an elopement wedding can solve, we are here to tell you how Madeira Island, located in Portugal, can be the perfect destination for your elopement wedding.
But first, what is an Elopement Wedding?
An Elopement Wedding was typically thought of as running away without telling friends or family and getting married, but that definition has changed over time. Now, an elopement wedding means that you are tying the knot and celebrating with just yourselves or a small gathering in a minimal, more casual fashion.
The beauty of elopement weddings is the flexibility it gives to the couple. You can get married wherever you like, without having to worry about what others think.
These weddings only require a minimal setup that can vary based on the couple's aspirations.
Here we will talk about why Madeira Island can be the perfect destination for your elopement wedding.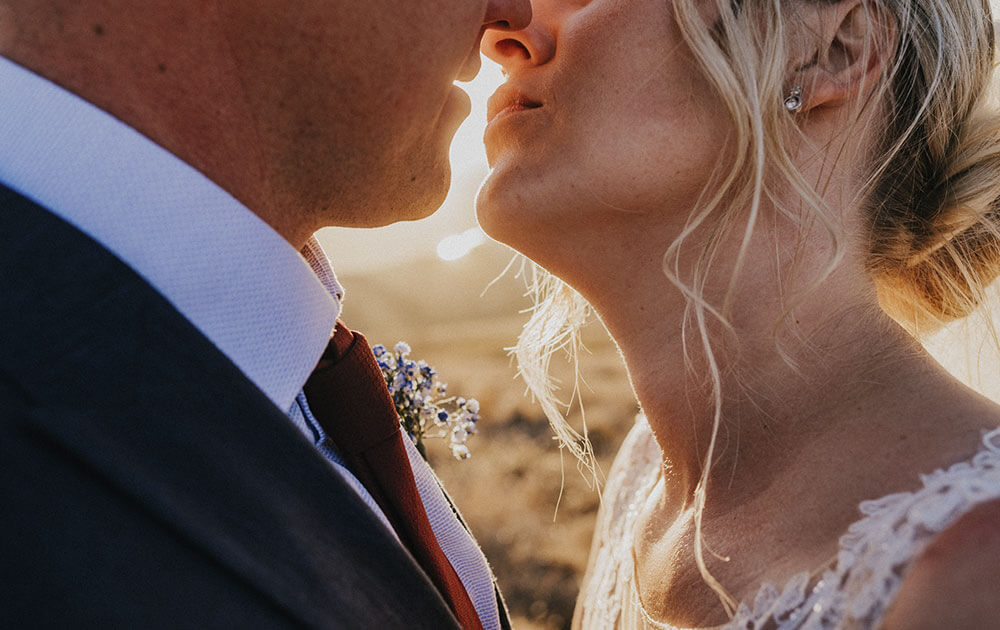 Madeira Island – Your Dream Destination In Europe
North of the Atlantic Ocean there's an island, often called 'The Pearl of the Atlantic' and recognized as Europe's Leading Island Destination for several years.
We're talking about Madeira Island, an autonomous region of Portugal that is curiously closer to Africa than it is to Portugal.
Sometimes known as the island where Cristiano Ronaldo was born, Madeira has a lot more to offer.
Having such fantastic harmony between sea and land and great weather all year long, it's no surprise that Madeira is a very requested destination for tourists.
Why Would You Want To Get Married There
Based on what we've covered so far and more, there are many reasons to choose Madeira Island as your Elopement Wedding Destination, such as:
1. A Good Price/Quality Relation
While being part of Portugal and of course Europe, Madeira has a pretty advantageous quality/price relation. This basically means that you can get a good overall service for a fair amount.
A quick comparison between the costs of living in Funchal (Madeira Island capital) and London (United Kingdom) using Numbeo's Cost of Living Comparison Tool tells us that we would need around 2,329.36£ (2,579.66€) in Funchal to maintain the same standard of life that you can have with 4,700.00£ in London. Crazy right?
To be more specific, Restaurant Prices in Funchal are 53.61% lower than in London.
Try Numbeo's tool and make the comparison for your residence city and see for yourself.
Either way, it will be very hard to find a European place that has an offer as good as Madeira while operating on costs that low.
2. Part Of The Third Safest Country In The World
Maybe you didn't know but Portugal is ranked as the third safest country in the world, according to the 2019 Global Peace Index, just behind New Zeeland and Iceland.
What's better is that in Portugal they refer to Madeira as a "little corner of the sky", because they consider it more peaceful than the mainland. This means Madeira Island is a very safe destination.
3. Breathtaking Landscapes And Places To View
We can't literally enumerate all the landscapes and places in Madeira Island that would amaze you. Only by seeing them would you believe what we are referring to.
Would you imagine being married in a big hotel garden with a deep-sea view, at an open beach or in a secular garden? Madeira is the place for you!
This is a deep advantage for couples who are looking to explore a bit more of their elopement wedding destination or those that dream of getting married at an exotic location. Madeira has it all.
Get to know some of the most exotic landscapes where we hosted some of our weddings at our gallery.
4. Inclusive Multicultural and Friendly Population
Being residents of a deep touristic island, the Madeira population had to adapt to this multicultural reality, as a big portion of its business activities relate in some way to the tourism segment.
The population is known for having a very friendly and warm reception for tourists.
Why on Earth would they want to come back if things weren't like that? It's pretty hard to find a tourist that had a bad experience with the people of Madeira.
Wedding In Madeira Is a Specialized Foreign Wedding Planner
These points also relate to all dimensions of planning a wedding. Foreign weddings aren't a novelty there and all aspects surrounding weddings, like wedding venues, planners, and more, are accustomed to it and provide specialized and ultimate experiences to foreign couples who decide to 'tie the knot' in Madeira.
Our project is the reality at this point. The Wedding In Madeira team is built to provide a dedicated wedding experience to foreign couples who want to get married in Madeira.
We deal with any sort of wedding and provide a very flexible service, mainly due to all that the Island has to offer.
From gigantic multi-day weddings to small gatherings on a beach, our team has provided all the wedding experiences in Madeira that you can imagine.
We're also accustomed to providing elopement wedding experiences, whatever your requirements might be. We serve as full wedding planners but we can also provide specific services like catering or direct venue contact.
If you consider that Madeira can make your dreams a reality (and trust us, it can!), contact us today and we will get in touch to approach this possibility, no commitments are required.